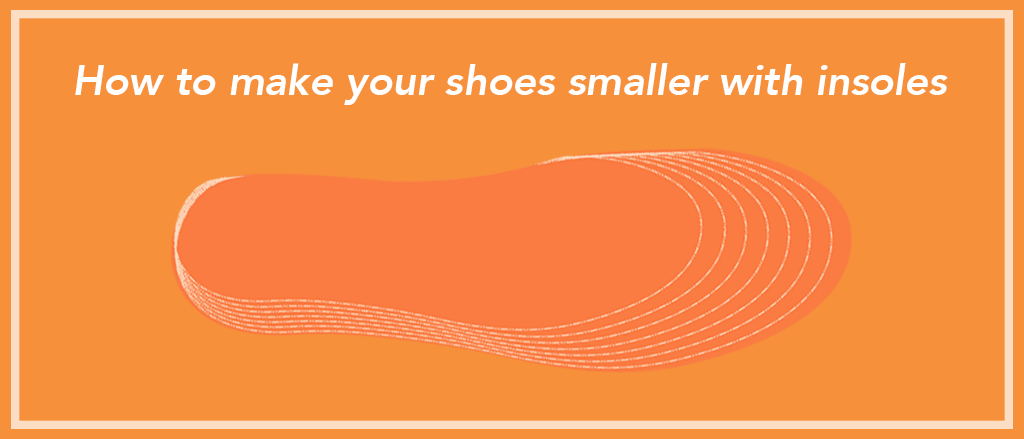 Have you ever been gifted the perfect pair of shoes, only to be disappointed when your feet slip and slide all over the place when you attempt to walk?
First things first; we'd always recommend trying to exchange them for a new size – easy enough if you have a gift receipt. But what if your gifter didn't include one?
Right here, we have handy tips and tricks on how to make shoes smaller (or seem that way!), as well as everything you need to know about insoles for shoes that are too big, so you don't have to miss out.
How to tell if your shoes are too big
We've all been there. You try on a stylish pair of shoes and discover that your usual size is tight but the size up is a little too roomy for your liking. Maybe you have one foot bigger than the other, which requires you to fork out on two pairs in different sizes.
But, how do you know if your shoes are too big? Well, it all comes down to comfort.
It may seem fairly obvious when a pair doesn't quite offer that 'Cinderella' fit, but we discovered that a huge 76% of people haven't had their feet measured properly since school, meaning some of us could actually be wearing the wrong size without even knowing.
Well, you're not alone! The Duchess of Sussex herself is said to wear shoes that are too big for her on purpose to avoid blisters or bunions (crazy right?) However, wearing shoes that are too big can actually do more harm than good.
We recommend accurately measuring your feet to find shoes that fit you to a 'T'.
How to make shoes smaller
Although it's always best to buy footwear that fits your feet (not just styles that look good on your shoe rack), we get that sometimes you can't resist that dream shoe, even if it's too big for your toes.
Luckily, there are a few tips and tricks that will allow you to wear your big shoes without looking silly.
Insoles are your new best friend
"What are insoles?" you may ask. An insole is a soft pad (usually made from a foam, gel or leather material), which you place inside your shoes to provide support, cushioning and even warmth for your feet.
Although often intended to help with posture problems and other discomforts, they're also super-useful to take up extra space in footwear that's on the big side.
Full insoles are a fantastic solution if your shoe is too big across the length of your foot, and they come in a variety of materials and styles to suit your needs:
Just pop them in your favourite footwear and you're good to go!
Heel grips are handy too
If your shoe style is pretty much perfect but you'd prefer a slightly snugger feel, heel grips are the way forward for you.
This small, padded strap is simply secured onto the back of your shoe to provide extra grip and support when you're walking and shorten the length of the shoe. They also prevent blisters – bonus!
Discover this lifesaving solution in a variety of materials, from silicone and gel to latex and fabric, and upgrade all of your shoes. Whether you have a pair of flats that painfully dig into the back of your feet or some strappy heels that let your feet slide around, this handy trick is an affordable way to improve your fit.
Stack up your socks
It may seem like the most obvious idea of them all, but the solution to your big-shoe nightmare may be lurking right under your nose – in your sock drawer!
That's right, wearing thicker socks or even doubling up with a couple of pairs is a genius way to make big shoes fit. The thicker the padding, the more tightly your feet will sit in the shoe.
Okay, so this method isn't exactly ideal if you're wearing sandals or open-toe heels, but it works well for boots and trainers (especially if you're wearing trousers that cover them). No one will ever know you've layered four pairs of brightly-coloured socks underneath!
On the other hand, this might be an uncomfortable choice in the warmer summer months, especially if you're prone to getting sweaty feet. Have a look for invisible socks or footsies, which will give you the freedom to wear most of your shoes without revealing your secret.
Go to the professionals
Perhaps you'd prefer a more permanent transformation, or maybe your shoes are simply too big for our previous solutions.
Take your shoes to a cobbler that will conceal heel grips, tongue pads or insole padding underneath the lining. Although this will cost you more, it's well worth the one-off payment for a pair that you wear regularly.
We hope our tips and tricks have given you some inspiration on how to make your shoes smaller. If you've tried all of our ideas to no avail, treat yourself to a new pair from Wynsors today!