As the mornings become colder and your flip-flops sadly return to the bottom of the shoe rack for another year, it's easy to succumb to the post-summer blues.
Then we remember that autumn/winter is our favourite season for style!
Want a versatile shoe to carry you effortlessly through the cooler seasons? Ankle boots are the answer. Whether you need a stylish staple pair for professional chic in the office, or a fashion-forward design to help you make a statement in the crowd, our style tips will prove that these boots really are made for walking.
From casual Chelsea and lace-up detailing to dressy stiletto and block-heel ankle boots, there's a style for every occasion.
Check out our top style tips on how to wear ankle boots and fall in love with your new perfect pair.
What are the different styles of ankle boot?
No matter what outfit you've planned the night before, the right ankle boots can give the finishing touch to any look – whether you've decided to treat your feet to some cool, comfy flats or dress your best in some striking stilettos for a night on the town.
But where do you start? Staring at what seems like a never-ending wall of ankle boots may be quite daunting. We promise you it's as easy as pie when it comes to finding the style for you.
Check out our top picks below for autumn and winter booties.
Chelsea Boots
If classic, simple style is your cup of tea, Chelsea boots are the ones for you.
This timeless pair has remained an iconic go-to throughout the decades, with their unisex appeal and effortless look. The round toe and characteristic elasticated panel give any outfit a smart, clean look, whether you decide to dress them up or down.
The design of the Apache Shira ankle boots means you can wear them with just about anything (although we'd probably avoid the beach!) Pair them with your favourite skinny jeans and an oversized jumper for a cosy look during those chilly autumn mornings.
Feeling bold? Of course you are! Why not team the Timberland Venice Park boots with a tailored blazer and cigarette trousers for an edgy masculine vibe?
Heeled ankle boots
A block heel is definitely a shoe rack essential.
This versatile ankle boot is customisable depending on the size of heel you dare to go for. If you're looking for an everyday bootie to pair with your rolled up jeans and graphic tee, a low block heel will support you whether you're on your feet for two hours or 12. Why not take a look at the Earth Spirit El Reno ankle boots?
Take your look from day to night with higher block-heel ankle boots, such as the Sprox Stacie boots, just perfect to wear with a LBD or flowy skirt and tights to elongate your legs and make sure you're night-out ready.
Flat ankle boots
You'll never have to worry about your feet aching in a pair of versatile flat ankle boots. Made to suit every personal style, these bad-boy boots will never be a fashion faux pas.
Ankle boots with dresses are a stylish option for sunny autumn days, but are just as good with a pair of slouchy mom jeans, rolled up for a casual vibe.
Our Selah ankle boots provide just the right amount of Western flair for any outfit!
Lace-up ankle boots
Looking for your dream autumn and winter boots?
Lace-up ankle boots are fashionable yet practical, especially for unpredictable British weather! Come rain or shine, this boot style will offer a cosy and comfortable vibe.
Whether you pair with skinny jeans and a leather jacket for a biker-chic look or some ripped jeans and a baggy jumper for a cool combat vibe, why not take a look at our Wrangler Creek Alaska boots?
Stiletto ankle boots
Go all-out glamour with a pair of sophisticated stiletto ankle boots. Don't let the idea of a stiletto scare you away from the heel section – a boot version is a great alternative to look incredible and still have support.
No matter what size heel you go for, this style looks especially stunning when worn at night or for an upscale event. Why not break boundaries? Wear them with some skinny jeans and leather jacket to turn heads at brunch.
Treat yourself to our Comfort Plus Carol design for leg-lengthening comfort.
How to wear ankle boots with jeans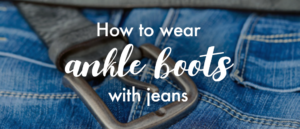 Jeans are an everyday essential in almost every wardrobe, and we get why – they're comfortable, versatile and never go out of fashion, not to mention they go hand-in-hand with ankle boots.
With skinny jeans
For a long, lean line, tuck your jeans into the boots. If they bunch, try rolling them up for ultimate ankle slimming.
With straight-leg jeans
Try to make the hem of the jeans extend over the top of the boot to prevent your legs looking shorter than they are.
With boot-cut jeans
We think this flattering style looks best when the jeans are around an inch from the ground. Try a boot with a pointed toe to slim and lengthen the line of the leg.
We hope our style tips help you find the perfect pair of ankle boots for your wardrobe. Why not try a few of our recommended styles? Let us know which pair is your favourite on our Facebook page today!