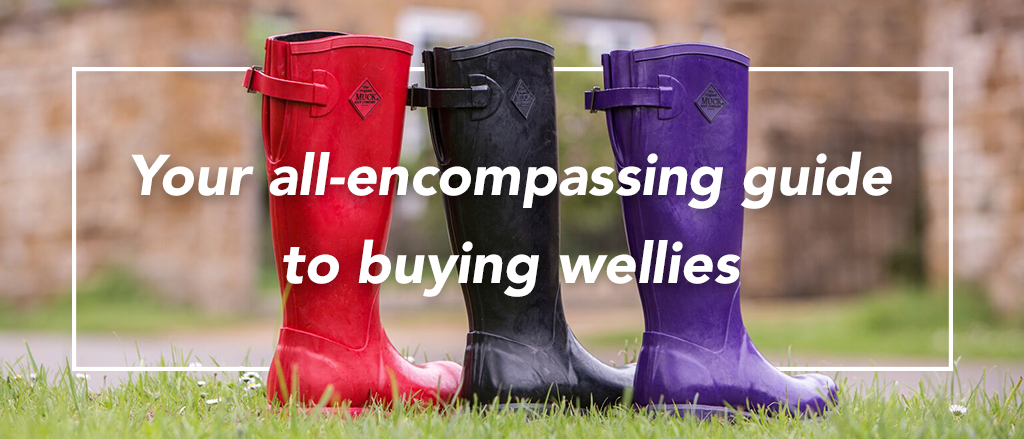 Wellies have become an outdoor necessity for any man, woman or child.
In the early 19th Century, they were a historic staple of British aristocracy and the middle class. Now, anybody can wear wellies – anywhere.
Whether you're dancing in the rain or trudging through mud on a fun family walk, you need a rugged pair of boots that'll stand up to the unpredictable elements of Mother Nature. Why ruin a perfectly clean pair of shoes when you have a waterproof alternative more suited to the great outdoors?
If you're looking to find out where to buy wellies, how to clean them or even how to choose the perfect pair, keep reading our practical guide to discover why wellies are an indispensable piece of your outdoor wardrobe.
What are wellies? A British icon, that's what!
They are a national icon, a symbol of ruggedness, designed to be all-purpose and all-terrain, and ideal for wet, muddy or snowy conditions.
It's hard to imagine what contemporary outdoor life would be like without wellies. The modern rubber and polyurethane wellies we know and love today were once popularised by the first Duke of Wellington, Arthur Wellesley.
Their once class-orientated use has since been abolished and they have become the necessary safety footwear standard throughout a broad range of industries. From a guard against chemical spills to protection from mud and grime; wellies really are designed for a multitude of conditions.
Despite their industrious use today, wellies were once used heavily throughout the First World War and World War Two. Transitioning from their use among patriotic British gentlemen, a total of 1,185,036 pairs were produced for the British Army in the First World War. This boost in production ensured soldiers possessed footwear suitable for the flooded and muddy conditions of Europe's battlefields.
Although circumstances have changed over the past 200 years, wellies haven't really changed at all!
What are the best wellies for the job?
Before you buy a pair of wellies, it's helpful to consider what you're going to use them for.
Do you want to make a stylish, yet functional, statement at Glastonbury this year? Or maybe you want to give your kids the perfect excuse to get wet and muddy on a rainy day. Regardless of your intentions, there's a style of wellies suitable for every occasion.
The everyday wellie – if you want to go on the occasional countryside walk, have a splash about in the rain, or even tend to the garden every once in a while, a classic style is the choice for you
The work wellie – if you work in agriculture or with industrial chemicals, you should ensure you have a durable pair of wellies that guarantee high levels of all-round protection for the task at hand
The statement wellie – interested in looking your best? No matter the festival or field you're in, look for iconic brands, designs and colours to suit your personal style
How can you ensure maximum comfort?
There is nothing worse than having cramped, cold or dirty feet – we know that from experience! That's why, here at Wynsors, we want to make sure your wellies fit you to a 'T'. You can never compromise when it comes to comfort, so here are few handy tips from us to help you on your hunt for the perfect pair.
Buy the right size
If you're wondering what size wellies you should buy, our advice is to grab a pair in your normal shoe size. Wellies tend to run true to regular UK shoe sizes, so you shouldn't have trouble finding a well-fitting pair.
*Top tip* – if you plan to wear thick or several pairs of socks with your wellies during those cold winter months, we recommend you get one shoe size up.
Keep your feet warm
If you're wondering how to keep feet warm in wellies, we'd say socks are the answer! Wearing multiple pairs of socks – especially those that are thick and woollen – will help keep your feet nice and toasty. However, try to avoid socks that are too thick as these could reduce the circulation to your toes (which isn't an ideal scenario!).
We know cotton socks are soft and breathable, but the material can't keep its warmth while damp. Cotton even has the potential to freeze in extremely cold weather meaning that cotton socks are a bad combination when paired with wellies and winter!
How to clean wellies
Nothing is worse than forgetting to deal with your wellies after a day-time festival excursion or a muddy dog walk through a trodden field. We'd recommend cleaning your wellies properly after each use by following some of our top tips:
If the exterior is dirty, ensure you use warm water and a cloth to remove any surface mud or dirt – don't worry about any stubborn mud just yet!
Next, soak a clean cloth in a soapy solution (containing one teaspoon of washing up liquid and one litre of water). Rub the boot in a circular motion to remove any stubborn areas
Use a soft-bristled brush soaked in the soapy solution to remove any mud or dirt still stuck in the sole
Finish wiping the exterior with a clean cloth to get rid of any lasting soap suds
If you need to remove any odours from the interior of your wellies, you could:
Create a cleaning solution using a small amount of washing up liquid
Dampen a cloth using the solution and begin to rub the inside of the wellies before wiping away the remaining solution with another damp cloth
We recommend you leave your wellies to air-dry – this process can be accelerated using old newspapers scrunched up inside to absorb any excess moisture
Where can I buy cheap wellies?
Here at Wynsors, we have a diverse range of stylish wellies from an assortment of brands. Whether you're looking for a tough and technical pair of work wellies, or you want to have some fun in the rain with a pair of everyday wellies, we have a collection that'll satisfy all of your outdoor needs!
If you have any more pressing questions about wellies that we haven't answered, head over to our Facebook page and let our experts know! Shop our full range of wellies for men, women and kids today in-store or browse online for bold web exclusives today