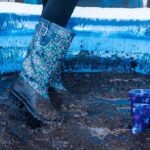 Our Wynsors World of Shoes Newton Heath branch was host to a very messy event involving a 'Wellie Testing Station', which took pride of place at the store-front.
We encouraged our customers to go wild and live the true British festival experience, without having to worry about clearing up their mess!
We wanted to give revellers the chance to try our fabulous selection of festival wellies to see if they stood up to the true durability test. With a pop-up mud bath, fake grass and a selection of men's, women's and children's wellies to choose from, this event really mimicked a real festival field.
Ahead of a host of upcoming mud-fests in the UK, such as Reading and Leeds, Creamfields and Fusion Festival, we wanted to make sure you're prepared for whatever weather the British climate has to throw at you! Despite a red-hot couple of weeks in June and July, the heavens will inevitably open and our funky wellies are all you need to battle the mud in style.
Customers of all ages were encouraged to make as much mess as possible in the 'Splash Zone' – we're surprised there was any mud left!
We asked participants to rate our festival wellies on essential performance factors such as comfort, grip, strength and style.
Sue Needham, General Store Manager at Wynsors World of Shoes Newton Heath, commented:
"We've had an amazing run of sunshine, but every year you can guarantee the British weather will be predictably unpredictable and cause havoc at music festivals – and we're sure this year will be no different – we've all seen an abandoned wellie lodged in a muddy festival field.
"We thought we'd put our wellies to the test and let our customers try before they buy to make sure they're up to the messy task of a British festival – and what better way to test them than in an actual mud bath?"
From everyone here at Wynsors World of Shoes, we'd like to say a massive thank you to everyone who got down and dirty in the mud bath in this event!
Check out our cheap festival wellies online or in store today. We have a fantastic selection of men's, women's, boys' and girls' festival wellies for bargain prices. Shop now.