Recently, we've had to tolerate one-hour exercise restrictions, put spin class friendships on pause and attempt to squeeze in home workouts around entertaining the kids (attempt being the operative word!).
But, while gyms have had to hastily shut their doors, it's encouraged many of us to dip our toes into foreign fitness waters and give other means – such as running – our best shot.
We've created a pulse-rising list of 2020's best (and cheapest) running shoes for men and women on a budget, so whether you're a marathon champion, a jogging devotee or a power-walking pro, you can find footwear to support your feet when you're propelling personal bests into the stratosphere.
Cheapest running shoes for men
Calling all men who want to keep active! Are worn-out kicks holding you (and your motivation) back? Turn to our picks below for the best affordable running shoes, offering sleek style and heel-to-toe support to get the job done and remain dapper while you do it.
Best for shock-absorbing support
Best budget running shoes for day-to-day fitness
This dark-hued trainer may seem mysterious at first glance, but slip on a pair and it's obvious to see why the Focus Chad trainers are a reliable choice for durable, daily wear.
These lightweight lace-ups feature a mix of fabrics; soft, structured suede for stability and fine mesh for breathable wear with every hop, skip and jump. What's more, these all-black beauties are the best budget-friendly pair of running shoes of the lot at an incredible £14.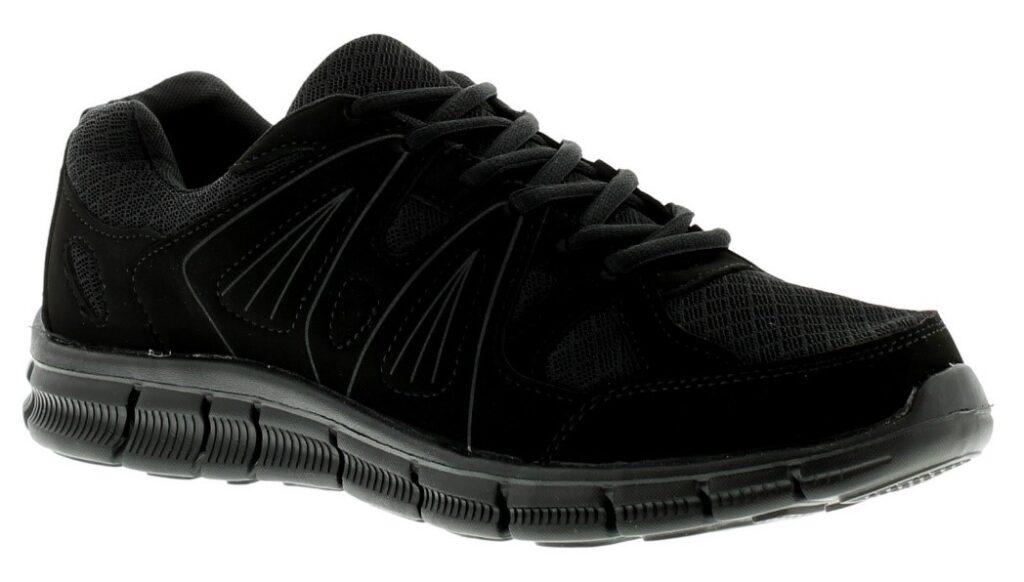 Cheapest running shoes for women
Ladies, it's time to throw out those thread-bare trainers that don't do your workout routine justice. Feast your eyes below for a selection of styles that keep you looking cute but comfortable – and all without breaking the bank.
Best trainers for eco-friendly runners
If the streamlined shape of the Nike Todus trainer isn't enough to grab your attention, its sustainably crafted fabrics certainly will. Spot Nike's innovative Flyleather; made through a process that reduces carbon impact and uses 50% recycled leather, it results in an engineered material 40% lighter and five times more abrasion resistant – impressive right?
Aside from its high-performance material, these sustainable running shoes also feature a perforated toe box and mesh tongue for enhanced breathability, while a foam midsole provides underfoot cushioning to comfort during fast-paced moments.
Not to mention that it comes in sleek all-white with hot-pink detailing (need we say more?).
Best neutral running shoe for every-day, cloud-nine comfort
Looking for a design with some extra oomph? Our next pick will leave you feeling wild!
The Skechers Flex Appeal 3.0s in the style 'Leopard Pounce', make the thought of running that little bit more fun. Made from mesh fabric in a choice of rainbow or natural leopard print ombré, and with the brand's iconic Air Cooled Memory Foam insole and shock-absorbing midsole, this super flexible shoe is a dream for neighbourhood jogs.
Best for reliable reinforcement and rigidity
Cue the futuristic footwear you didn't know you needed for everything-fitness. The Reebok ZPump Fusion 2.5 WP (a bit of a mouthful nonetheless) offers revolutionary structure in the form of its 'The Pump' technology and 360-degree endoskeleton for a locked-in fit from all angles.
Now for the science bit; featuring a reinforced midfoot board for shoe stability, a carbonated foam midsole for lightweight impact control and high-abrasion rubber outsole for durability and traction, these comfortable kicks are on standby for on-the-fly action and quick impact.
What's more, you can find these sleek running shoes in an all-white design for off-the-radar style days. That full marathon is just waiting for you to conquer it!
Best slip-on shoe for a smooth ride
If the all-white trainer bandwagon wasn't enough to make you pop a pair into your basket, these monochrome Lonsdale Epics will tempt you for all the right reasons.
More than just a clean exterior, they sport a super-light phylon sole to provide impact absorption, as well as a moulded skeleton frame for a naturally supportive fit. The pros don't end there though; these elasticated slip-ons are made from breathable mesh fabric, making them exceptionally lightweight and smooth to wear on every run.
Impressed by our pick of the best budget running shoes? Head over to our Facebook or Twitter to let us know your favourites! For even more great choice for the whole family, browse our running shoes for men, women, boys' and girls' at incredibly affordable prices.