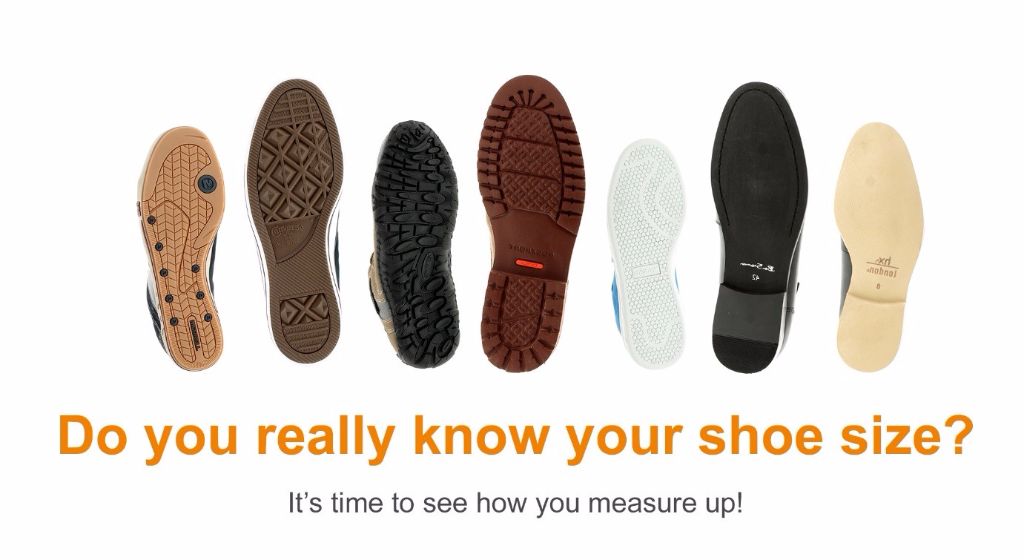 Everyone knows their exact shoe size, right? It's one of those things that we take for granted as we grow older (grow being the operative word).
However, new research undertaken by Wynsors World of Shoes has shown that many of us are in danger of suffering short and long-term foot complaints because, actually, we don't really understand our true foot measurements.
We asked more than 2,000 UK consumers a number of questions. When was the last time they had their feet professionally measured? Have they ever bought a pair of shoes that didn't fit them properly? Have they ever persisted in wearing a pair of "cool" shoes, despite being in agony?
The answers we received were very revealing indeed…

What problems can ill-fitting shoes cause?
Consistently wearing shoes that don't fit properly can cause a number of ailments, including (but not limited to):
Blisters
Corns
Damage to the toenails
Metatarsalgia (pain in the ball of the foot)
Structural deformities (hammer toes and contracted tendons)
Bunions
Shortened Achilles tendon
Clawed toes
As our research shows, more than one in three people will continue to wear ill-fitting shoes for the sake of fashion. Interestingly, women are almost twice as likely as men to put up with pain in order to wear stylish footwear.
Our data also shows that younger people are (perhaps unsurprisingly) the most likely to buy trendy shoes that don't fit them properly. 53% of 18 to 24-year-olds admit that they will prioritise fashion over proper fit.
We all like to look good, but there's no need to sacrifice comfort for style. You can have both.
Stuart Metcalfe, a Consultant Podiatrist at Spire Parkway Hospital in Solihull, told us: "Shoes that are too small and the wrong shape to fit the foot cause pressure across the bones and soft tissues of the feet. As a result, toes may buckle to accommodate the shoe, leading to hammer toes and bunions. The skin over pressure points often becomes thickened to try and protect the tissues, but this can often lead to callus and bursa over these pressure points.
 "Shoe fit is not just about size. It is also about ensuring that the shoe is held in place properly. Shoes that aren't secure to the foot result in the wearer having to claw their toes to grip the shoe. Apart from the foot fatigue this can cause, in the long term this can cause clawed toes."
How to get the right shoe size – Treat your feet like your teeth!
Many of us remember getting our feet measured in the shoe shop when we were kids. As the results of our poll suggest, it's high time that we harked back to our early years and got into the habit of measuring our feet more regularly.
Less than one in four people who took part in our survey have had their feet sized up properly since they left school.
Mr Metcalfe believes that this is a problem.
Here's why…
"Our feet do change shape as we get older. This is because the soft tissues supporting our feet may become stretched, allowing our feet to splay. As the foot collapses down it effectively becomes a little longer," he continued.
"My advice is it's worth having a foot check at least once a year. After all, you wouldn't neglect your teeth!"
In fact, data provided by the College of Podiatry suggests that the average UK shoe measurement has increased by two sizes since the 1970s. If that doesn't convince you that your feet can grow after you hit adulthood, then we're not sure what will!
Also, your feet can expand throughout the day, so if you're planning to head down to your local store to find out your true shoe size, it's probably best to go later on.

Shoe size conversion chart – What you need to know
You may have had your eye on a swanky pair of kicks, but the sizes don't seem familiar. Chances are they're not following the standardised format used in the UK.
Never fear; it's easy enough to convert European shoe sizes with our useful shoe size chart.
It's particularly important that you get the right size shoes for your kids.
We've got a really handy guide for you to follow when measuring your kids' feet here.
Sometimes there are size discrepancies between different brands; a problem that more than half of our survey respondents have encountered before.
Shaun Lewis, Footwear Quality Technician at Wynsors, offered the following advice:
"The sizing differences between brands is down to how they are measured for their particular system. [For example], adidas are German and use the Paris point system, which is based on the metric system – two-thirds of a centimetre between sizes.
"Nike are American and use the US sizing system, which is based on inches. The UK also uses a system based on inches, but it is different to the US way (both use one-third of an inch between sizes, though). Consequently, they all convert their available sizes to suit the UK system and this is where slight discrepancies sometimes arise."
For example:
UK size 10 = USA 11.5 = Euro 44.5
"However, the US shoes will still be stamped with the US size, not the UK equivalent, so consequently they will be slightly shorter than a UK 10," Mr Lewis continued.
"European footwear will also be converted to the nearest size, which in this case is a 44 (not a 44.5 because they rarely do half sizes), so again this will be shorter than the UK equivalent."
If you have a favourite footwear brand, it's worth checking to see where their designers are based, as this can determine how they size up their shoes.
Do I need wide-fit shoes?
At Wynsors, we've seen a significant rise in the number of people looking for "specialist" footwear – whether it's arch-support shoes, wide-fit designs or large-size shoes.
Mr Metcalfe explained that it's just as important to get the correct width, as well as the length (something that more than one in four of our survey respondents find tricky).
"Shoe fit is not just about the length of the shoe. Shoes have to fit properly in three key areas; length, width and depth. Lack of space in any of these three directions will result in damage to the foot," he added.
Our survey suggests that women find it particularly hard to get the right shoe width. 32% of women say they struggle to find wide-fit shoes and boots, compared with 23% of men.
This is where a lot of people come unstuck when they attempt to measure their feet at home; it's too easy to gauge the length of your foot and then leave it at that.
When you get your feet professionally measured, the expert will pay as much attention to the width as the length, meaning you get a better idea of the shape of shoe that will provide you with the most support.
When was the last time you had your feet professionally measured? Make sure the shoe fits! Remember to check our twitter and Facebook pages for more footwear-related articles and advice.